Mennonites began emigrating to America from Europe because of severe persecution. In the early 1800's some moved to Franklin County from Lancaster County. By 1869 there were a number of Mennonites in Peters Township. Because of the distance to other Mennonite churches in the county they built their own meetinghouse, in 1869, near the village of Williamson and was known as the Williamson Mennonite Church. They had a thriving Sunday School, but by the early 1900's the congregation almost died out because of tensions over differences of opinions.
The prayers and faith of those who thought the work could and should continue did not go unnoticed by the Lord.
In 1935 the Samuel Horst family and other families from the Marion congregation became involved. They renewed Sunday School and started cottage prayer meetings in the community homes. In 1960 the building was remodeled with indoor restrooms and Sunday School rooms.
The congregation continued to grow and by 1978 the need for more Sunday School facilities was felt. The building was considered too old to invest more money in it by building an addition, and the location seemed inappropriate for a new building since most of the community was gone because of the farms that Bethlehem Steel had purchased.
In 1979 it was agreed to build a new meeting house and look for a new location. A plot of ground was found east of Mercersburg along Route 16. This ground was purchased on December 31, 1979. Ground-breaking took place in April of 1980 and building was begun soon thereafter.
The last service was held at the Williamson meetinghouse on January 4, 1981. The congregation then drove to the new meetinghouse and had the first service in the new building. Services were held on April 26, 1981 to dedicate the new building to the glory of God. The Williamson meetinghouse is now being used the Old Order River Brethren.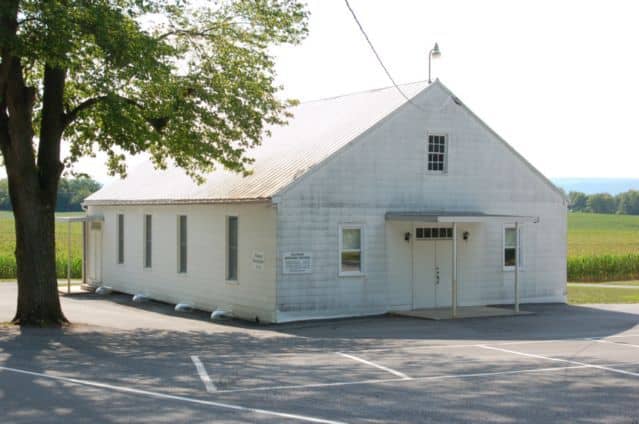 We continue to grow by the Grace of God. In 2000 a fellowship hall and Sunday School rooms were added. Pray for direction as we continue to grow and need more facilities.
(History taken from Lloyd Gingrich et. al.)